If you are getting a new phone or moving an existing one, plug your network cables into the correct ports.
Looking at the phone upside down.
The port on the right side (marked in red below) goes to the wall.
The port on the left side (marked in blue below) goes to your computer or dock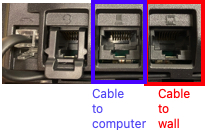 After you put your network cable in the "Cable to wall" port the phone should light up and boot.
If you are moving a phone to a different building or off campus you need to be aware of the 911 concerns.